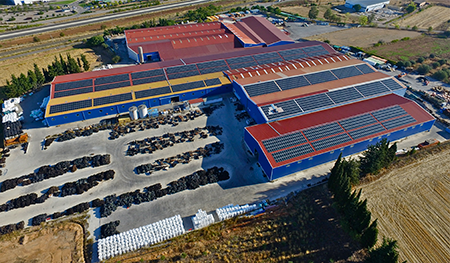 EuroRope Marine is the continuation of ScanRope Marine, a well known and highly trusted supplier of mooring ropes and accessories to the marine industry.
The company's main credentials remain the renowned product range Karat ®, the experienced staff, and the high degree of service we provide.
The name change is the final stage in a transition that started in 2004 when the company became part of EUROROPE S.A., one of Europe's largest and most dynamic rope manufacturers.
All Karat ® rope manufacturing takes place at a large and ultra-modern manufacturing plant in Piraeus, Greece. The factory was built in 2002 and has achieved its goal of high efficiency and unsurpassed quality. For our customers this means receiving reliable products at competitive prices delivered to the agreed destination at the agreed time.
EuroRope Marine's highly skilled staff just outside Ålesund, Norway, has a reputation for friendly service and a fundamental understanding of the shipping companies' needs. Karat Maxi mooring ropes are therefore stocked at strategic ports throughout the world, including Rotterdam, Algeciras, Houston, Singapore and Fujairah. Furthermore, quality wire ropes and rope accessories are procured from approved manufacturers to ensure our customers a complete range of marine ropes and hardware.